A quick tutorial to adding Customers
Adding a Customer Before Creating a Map:
To add a Customer to Onboard before creating a Map, start by click the Customers tab.
Next click the "+ Add customer" button in the upper right hand corner.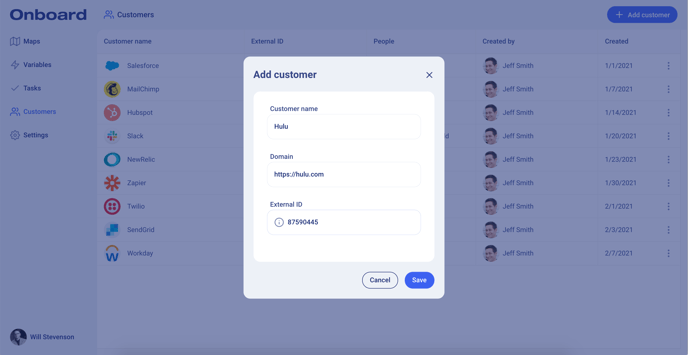 From there you're able to enter the Customer name, Domain, and External ID.
Tip: By entering the domain, Onboard will attempt to bull in the customer's logo, so you don't have to manually upload it.
Additionally, the External ID can be use to track between Onboard an another system, like your CRM.
After clicking "Save" the new Company is created!
Adding a Customer while creating a Map:
Another option is to create the Customer while you are creating the Map. Start by clicking "Maps".
Click "+ Add Map".
Next you'll be able to enter the Map Name and the Customer Name.

Map Name:

Typically our customers will use a naming convention, such as [Company Name] - [Customer Type] or [Customer Name] - [Month/Year]

Company Name:

This is where you start creating a new Company.
Once you start typing the Company name, you'll notice there will be an option to "+ Add a new company".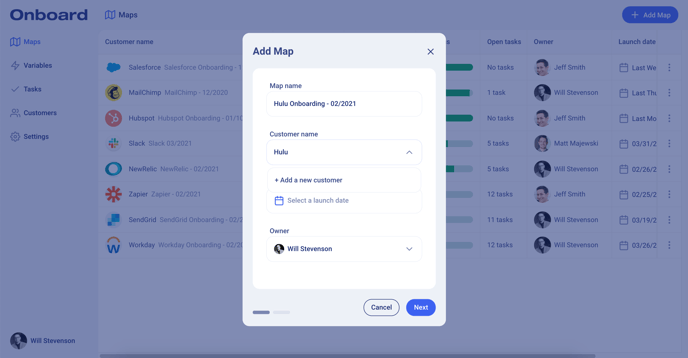 Click "+ Add a new Company" and Onboard will automatically create the new company.
Editing or Archiving a Customer:
To edit or archive a Customer, navigate to the Customers tab. Then click the dots next to the company and select the action you want to take.